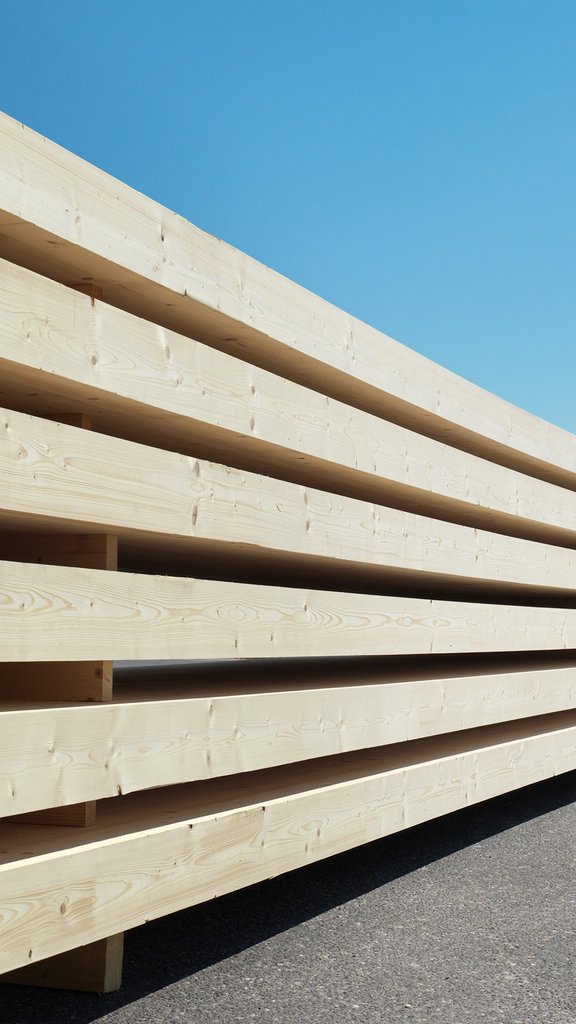 Glued laminated timber

and GLT bearing systems
Glued laminated timber is a formable building material with
high load-bearing capacity

in relation to dead weight.
It consists of boards glued together with their fibres parallel. With the use of tapered finger joints and gluing,
it is possible to increase the natural growth both in length and width.
At WIEHAG you can draw from a full range of products.
GLT as custom-sized and dimensional timber
We offer GLT as custom-sized and dimensional timber, on request also ready-bound and with the corresponding fasteners.
On request, we also supply our BSH with PEFC™ or FSC® certification.
You can find our standard dimensions and standard qualities here in the product data sheet.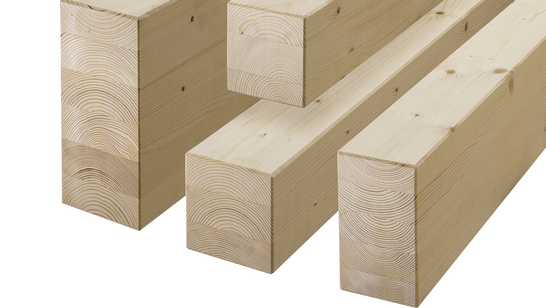 Bearing systems and beam shapes
There are no limits to the design of the bearing system: We offer straight and curved beams in almost all shapes and sizes up to an individual component length of 50 metres.
Larger spans can be bridged with composite support structures (e.g. trusses or arches). You can find more detailed information about our structural components in our "Beam shapes" product data sheet.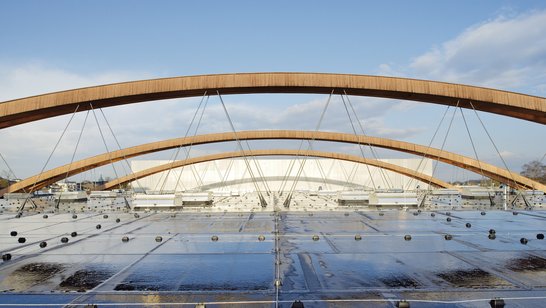 From simple assembly protection to
permanent coating
We offer the following variants for the wood coating of GLT bearing systems:
Assembly protection (W)
Weather protection (W)
UV protection (W)
Chemical wood protection:

Blue stain (B)
Fungi (P)
Insect prevention (Iv)
Termite prevention T)

Paint coating
Find out more in our product data sheet on the subject of wood coating.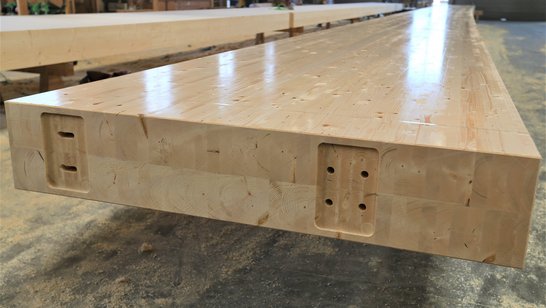 Do you have a question about our GLT bearing systems? Or would you like to know more about our
services for timber engineering partners?
The WIEHAG
frame corner
The WIEHAG frame corner is our patented support structure solution with simple site connection for quick assembly. The system sets new standards in terms of cost effectiveness. It also meets aesthetic requirements.
Three-hinge and two-hinge frame versions
Large spans possible
No transport restrictions
Pre-assembly of all fasteners in the factory
Fine adjustment of frame geometry possible on site

You'll find further information about the frame corner in the product data sheet.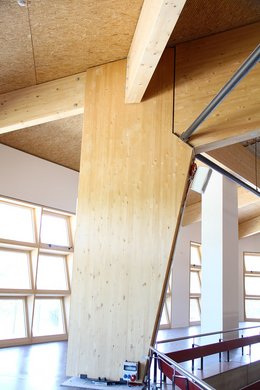 XXXL block-bonded

composite components

Block-bonded cross-sections or composite components are used for high static loads and in the case of increased fire protection requirements. For beam widths greater than 260 mm, several glued laminated timber cross-sections can be glued together to form composite components.

One application is block-bonded supports as load-bearing structural components for high-rise timber construction, or block-bonded cross supports (fixed on both sides) for hall construction to reinforce buildings.

We offer you the following services at WIEHAG:
Tailor-made solutions for every project
Technical advice and support
Factory-assembled steel connectors
Worldwide deliveries including logistics planning and just-in-time delivery
Wide range of specifications available for different types of wood, coatings, etc.
You'll find further information in the product data sheet.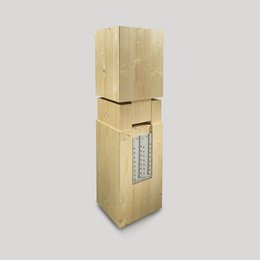 The WIEHAG complete solution consists of the bearing system and the building shell. One prime example: The logistics hall for Cargo-Partner in Fischamend . Everything comes from WIEHAG: the GLT bearing system, the fixed supports, beams, purlins, connection systems and bracings. The building shell was constructed with WIEHAG roof and wall panels, and even the larch wood façade was produced at WIEHAG.
The best timber projects start with a discussion
on equal terms.