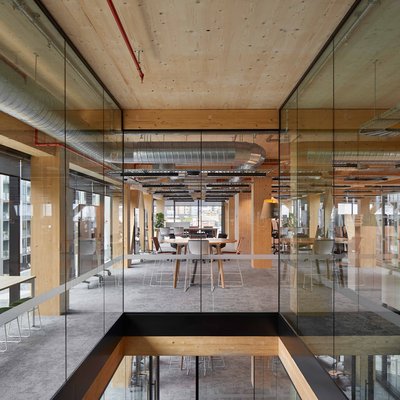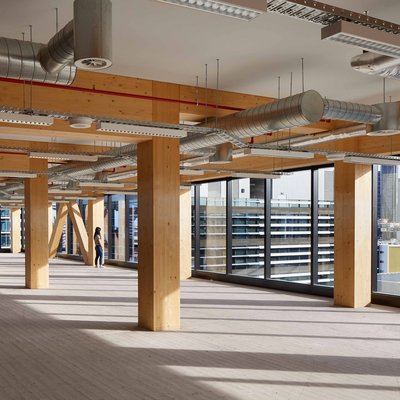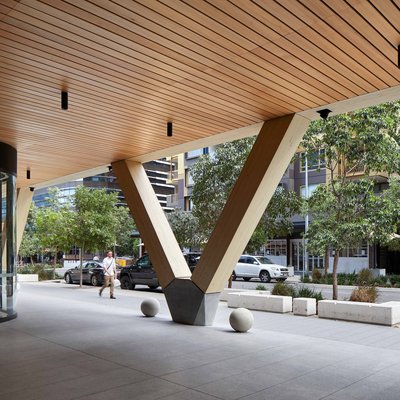 25 King
office building
Australia's tallest timber office building sets new standards in timber office construction and sustainability.
The high-rise building was constructed using the WIEHAG glulam kit, prefabricated block-bonded GLT beams and support columns. 1,367 cubic metres of glued laminated timber split into 1,240 individual parts were processed for this in Altheim and then shipped to Brisbane.
Australia's tallest timber office tower
With a height of 45 metres, the "25 King" in Brisbane is the largest timber office building in Australia. The inviting offices are spread over 9 storeys. On the ground floor, cafés and restaurants tempt you to linger. The new building was completed in autumn 2019 and is considered a role model in the field of timber engineering. It is a modular building based on a grid of GLT columns and beams.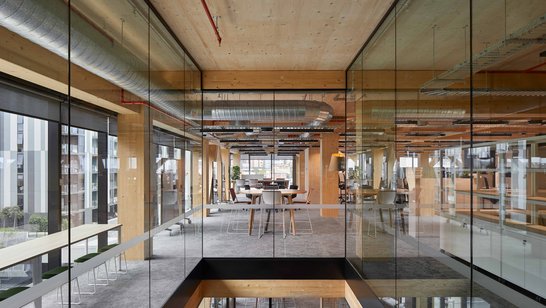 "25 King is the latest example of high-performance workplaces setting new benchmarks in environmentally sustainable building practices."

— John Burton, Lendlease's Managing Director, Urban Regeneration
The WIEHAG glulam kit in Australia
The following services within the scope of the WIEHAG glulam kit contributed to the success of the project:
Production drawings
Production of the glued laminated timber trusses, GLT beams, GLT supports, GLT hybrid beams with beech LVL and GLT hybrid beams with Accoya
Production of the custom-made steel connecting parts
Factory assembly of the steel connecting parts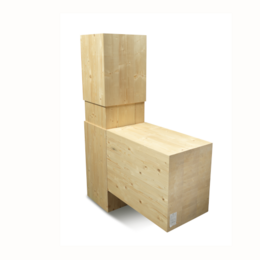 Client

Lendlease

Engineering

Aurecon

Timber support structure

WIEHAG GmbH

Architecture

Bates Smart

Construction period

11 months

Completion

October 2018