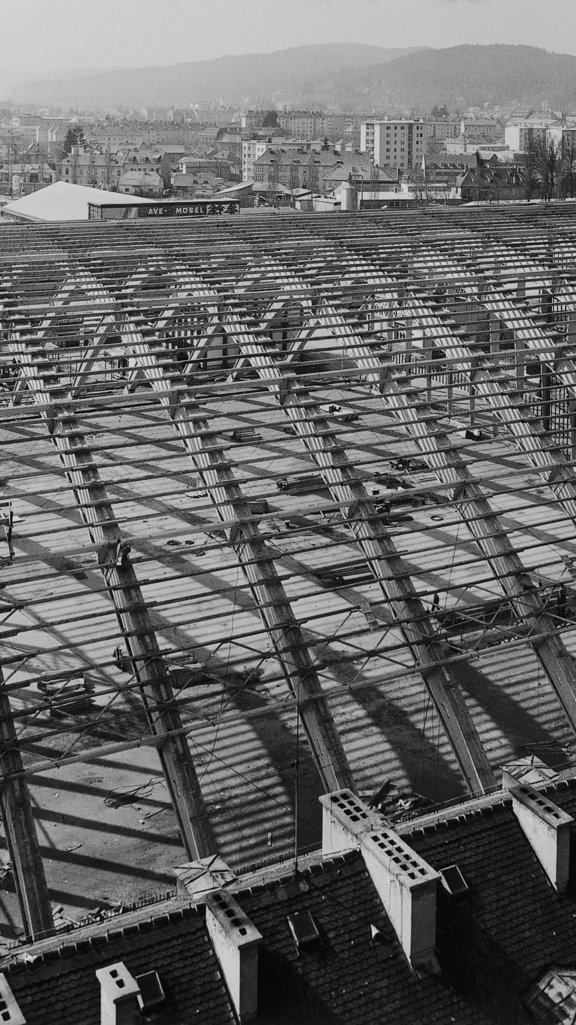 WIEHAG


Pioneers in timber engineering.
WIEHAG is an Austrian timber engineering company based in Altheim. Our experience makes us partners for future-oriented and creative building ideas in timber worldwide.
For this purpose, we combine our leading engineering expertise with our high-performance production and thereby bring the renewable raw material timber to bear for climate-friendly construction. We prove that it is possible to act ecologically and socially, while still being successful.
WIEHAG

at a glance
Since 1849, a family-owned company, now in the 5th generation
Core competence in timber engineering – from design through to finished assembly
We are serving nternational markets with sales offices in Altheim (AT), London (GB), Bilbao (ES), Eningen (DE)
Production site for GLT constructions with 22 hectares of factory space and a production capacity of about 80,000 m³.
360 employees, 25 of them timber construction engineers
WIEHAG's Green Factory: Generation of our heat and electricity requirements from our own biomass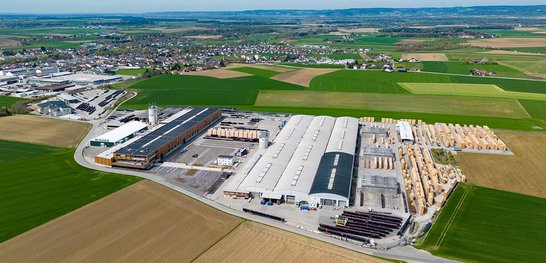 "We want to be part of the shift towards material-efficient, energy-efficient construction with our timber engineering expertise."

— Erich Wiesner, CEO and proprietor of WIEHAG
Milestones

in timber engineering
Our history
With our history of around 170 years, we have significantly influenced the development of timber engineering. Today we are still pioneers in the timber construction industry, setting the tone in terms of engineering expertise, pioneering buildings and sustainability.
Timber engineering experience
for generations
Since 1849, the Wiesner family has been continuously involved in timber construction, now in the 5th generation.
Master carpenter, Josef Wiesner, was the founder. He registered as a member of the carpenters' guild in May 1849 in Altheim, Upper Austria. A globally active timber construction company emerges from a workshop and an open-air joinery.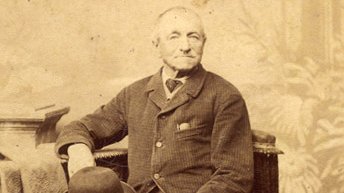 Sawmill hall in Zollinger construction method
For the construction of a cantilevered sawmill hall in 1928 for its own company, WIEHAG uses the patent of Friedrich Zollinger. He patented the "Zollinger construction method" named after him in 1923. An impressive construction is created, which only has to give way in 1950 due to the creation of other new buildings. Even then, WIEHAG was open to technical innovations.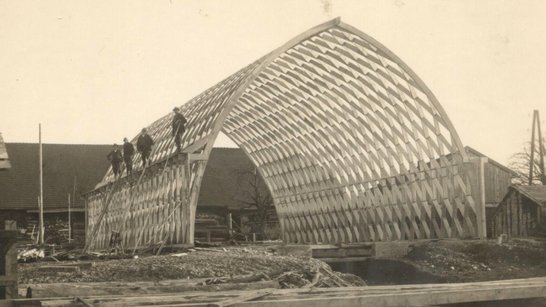 Triangle brace construction
It starts with the license for the production of DSB trusses, which is acquired in 1953. A DSB truss is a timber frame construction. With this new technique, not only can material be saved, but also greater spans can be achieved.
Already in 1957 the hundredth roof truss of WIEHAG can be celebrated.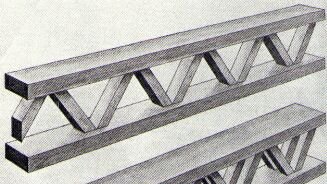 Kämpf web beam
In 1958 the next step in the development of glued laminated timber construction is taken. WIEHAG starts with the production of Kämpf web beams.
The basic material for this technique is boards that are glued together on edge, layer by layer at about 15 degrees. This is a very resource-saving construction method, which is, however, very labour-intensive.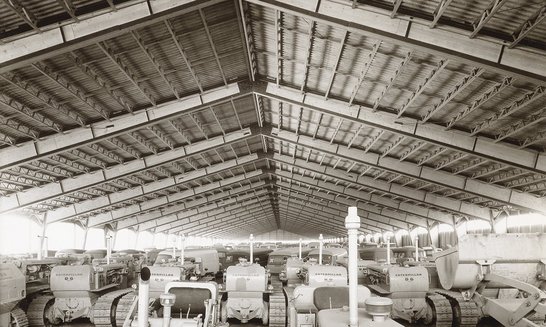 Hetzer beams

- The beginning of glulam production at WIEHAG

Since 1964, WIEHAG has continuously produced so-called Hetzer girders, today called glulam girders. The era of large spans and self-supporting constructions made of wood begins and WIEHAG quickly sets new standards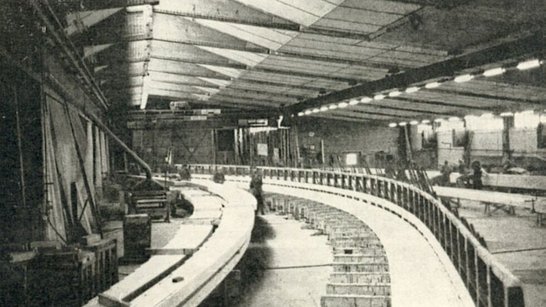 Early pioneering buildings

that point to the future

Austria Pavilion at the New York World's Fair – a pioneering achievement in prefabrication (1964)

Austrian star architect Gustav Peichl wins the competition to construct this exhibition building with his design. "The fact that timber has been a main material of domestic architecture for centuries and is today a valuable export commodity for Austria" proved to be an advantage even then. In addition to that came the fact that timber as a building material is ideal for prefabrication, thanks to WIEHAG engineering. The individual parts of the pavilion, planned according to the modular principle, were prefabricated at WIEHAG in Altheim and assembled on site in New York.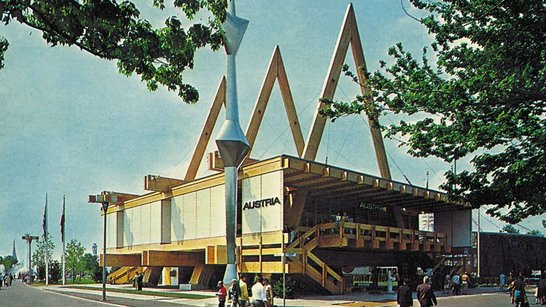 The Klagenfurt Exhibition Hall

– the largest glued laminated timber hall in Europe

At the time, construction of the arched-girder hall with a span of almost 100 m represented an incredible technical and organisational achievement. Never before had such a large timber structure been designed for such a high snow load, namely 200 kg/m².

The individual glued laminated timber beams were manufactured at the factory in a length of 55.5 m, dismantled into three parts for transport by rail, and then reunited on the building site using a patented assembly joint.

The hall is not only unreservedly admired by the general public; it is also described by timber construction experts, both national and international, as a pioneering achievement in glued laminated timber construction.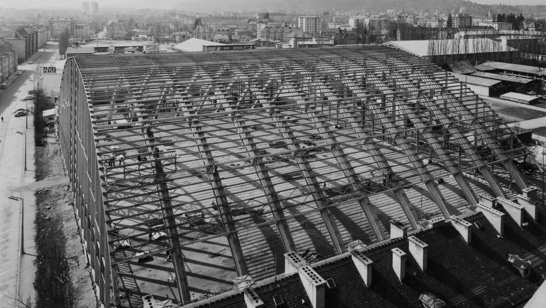 Eco Power Act


Not only wide-stretched, but also strong as an ox!

How many army tanks can WIEHAG hang on a high-performance timber beam stretched over a distance of 30m? With this question WIEHAG invited the media and the expert public to the WIEHAG factory on 30.10.1996 for a true wooden construction spectacle.

One after the other, 5 army tanks from the Ried im Innkreis barracks are hung on a high-performance timber beam developed by WIEHAG, which serves as an alternating beam between two hall aisles of the company's own production. The timber truss girder carries around 80 tonnes at each of the three quarter points. WIEHAG once again proves its engineering competence and pioneering spirit.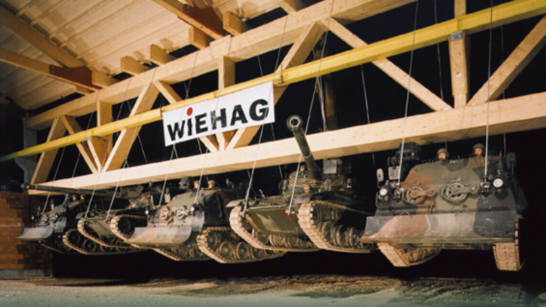 New standards in the industrial production of
GLT project components
WIEHAG bets on the future of timber construction and in 1999 opens the most modern and largest production plant for project components with a multitude of innovations. For the first time a control technology is programmed and used, where production orders can be accepted online in combination with work preparation and construction. The world's first CNC press for glued laminated timber components up to 50 metres is successfully developed and built in close cooperation with the machine manufacturer. Similarly, a CNC machining centre for the extra-long beams.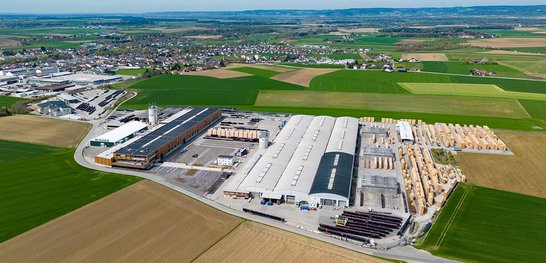 In competition with
steel and concrete
WIEHAG goes international
The new high-performance plant strengthens WIEHAG in facing the competition with other materials and wins prestigious large-scale construction orders. WIEHAG thereby provides proof that timber construction can convince both technically and economically.
International
architecture
WIEHAG next level engineering
Internationally recognised star architects and Pritzker Prize winners are attracted to WIEHAG's engineering know-how for the implementation of their projects. They include Norman Foster, Rogers, Stirk, Harbour & Partner, Coop Himmelblau, Kengo Kuma and Toyo Ito. In close cooperation, award-winning architectural buildings are developed, which demonstrate the ingenious design potential of the material.
Mass timber components for
high-rise construction
Reaching for the skies with WIEHAG
Timber construction conquers new heights. The first high-rise buildings are being built in timber worldwide, and WIEHAG is once again involved as a pioneering company. The production know-how and the logistics for over-sized, block-bonded structural components is in demand.
With the completed references of K 5 Brisbane, NTU Singapore, the largest timber building in Asia, and the Ascent Tower in Milwaukee, the tallest timber tower in the USA, WIEHAG demonstrates its leading position in this growing market segment.
We are building
the green factory
We have set ourselves the goal of becoming a model company in terms of sustainability. Since the beginning of 2021, we have been planning and building our Green Factory.
For us, this means:
Our new production hall and our new office building with an area of around 7,500 m² will be constructed entirely in timber, with timber columns, timber beams, timber crane track, as well as timber wall and roof panels.
The entire operational heat requirement will be met by our biomass power plant, which is fed from our production waste (such as timber shavings).
Our electrical energy also comes from green power. A newly installed photovoltaic system on the roof of the new production hall, with an output of 1 MWp, together with a new timber gasification combined heat and power plant are able to provide a high proportion of the electricity required.
As a large industrial company, we are therefore almost self-sufficient in our green energy supply.