From the initial assembly concept through
to project acceptance
Assembly is the final step of our WIEHAG service package. But even at the planning stage, our engineers focus on safe and swift installation.
Long before the first components arrive on site, we develop our assembly concept together with the project participants locally. This includes the required human resources, cranes, tools and safety equipment, as well as the building site logistics. An assembly team usually consists of five people, three lifting platforms, a site forklift and a mobile crane.
We work with our own WIEHAG fitters and also with installation partners who have proven their quality in many years of cooperation.
The advantages of timber construction become apparent not least during assembly:
Short assembly times thanks to a high degree of prefabrication
Relatively noiseless assembly
Subsequent trades can start without delay (no hardening as with concrete)
Just-in-time deliveries also enable assembly in inner-city areas where space is limited
Safety as the top
priority on the building site
All activities are described in the risk analysis and the assembly concept and coordinated with our customers' safety officers. The self-monitoring of our Health & Safety Policy is ensured by our H&S consultant by means of regular site inspections.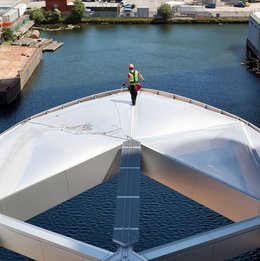 Whether in the sweltering heat on the Red Sea or during snowfalls in the Alps –
our experienced WIEHAG fitters look forward to your project.
You'll find answers in our FAQs