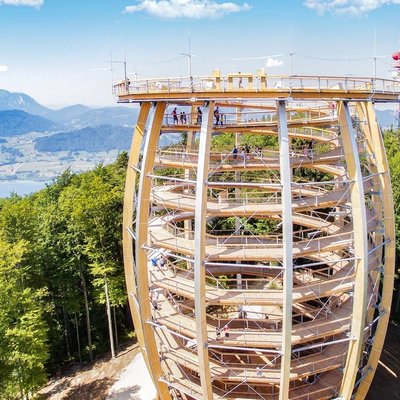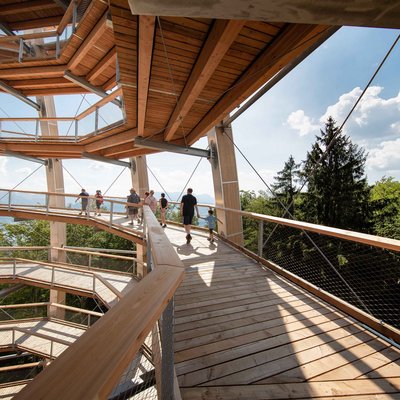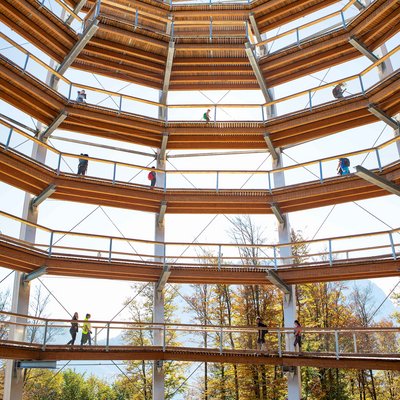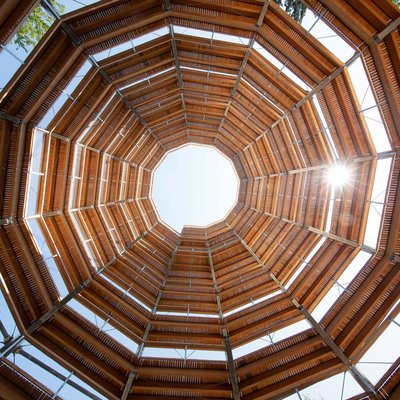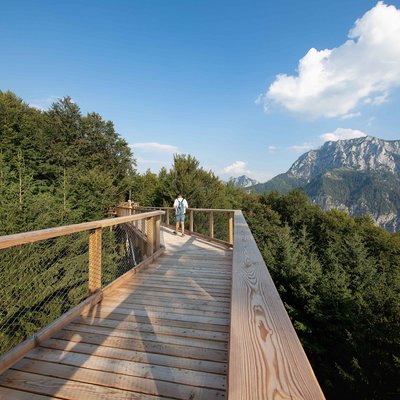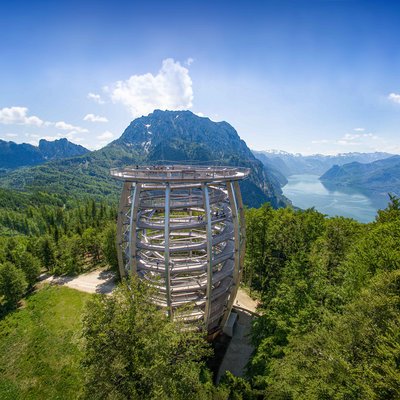 Treetop tower on the
Grünberg
The idea of opening up the incomparable view of the Grünberg to tourists on a grand scale is 90 years old. The ideal timber engineering partner for the project was found in the form of WIEHAG.
Since 2018, a 39-metre high observation tower with canopy walkway has enthroned a favourite destination for the people of Gmund.
A popular destination in the region
The aim was to revive the Grünberg as a tourist destination with the existing modernised cable car. The aim was to create a regional reference with the shape of the tower. If constructively possible, the treetop tower should be reminiscent of a salt barrel or a cider jug.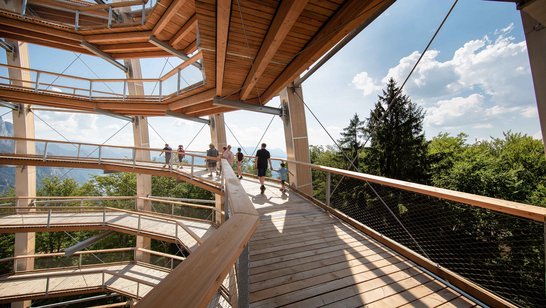 Unique perspectives & an impressive construction method
The planned structure has the shape of a cup or barrel and a height of approx. 39 metres above the surrounding terrain. The outside diameter varies between approx. 23 m at the base and head and approx. 31 m in the middle. The construction consists of an outer ring of 12 curved glued laminated timber beams made of combined GLT, which are set up rotationally symmetrically with an angle difference of 30° to one another.
The ascent to the viewing platform is made possible by an internal ramp structure with a
maximum gradient of 6%. At the head of the structure, there is a circumferential viewing platform with a width of 2.50 m, which can be reached via a ramp. The construction of the platform consists of outwardly cantilevering steel cantilever beams connected to the timber supports, and three longitudinal GLT beams with plank decking in between.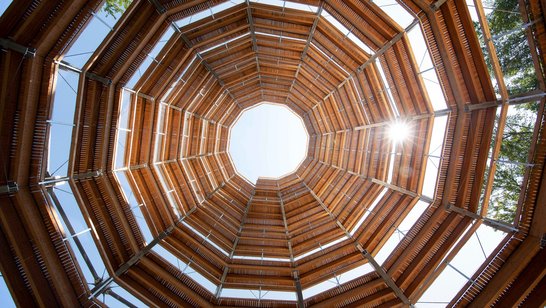 Location

Grünberg, Gmunden

Client

Die Erlebnis Akademie AG

Architecture

DI Josef Stöger

Tower height

39 metres

Category

Special buildings

Construction period

5 months

Completion

July 2018