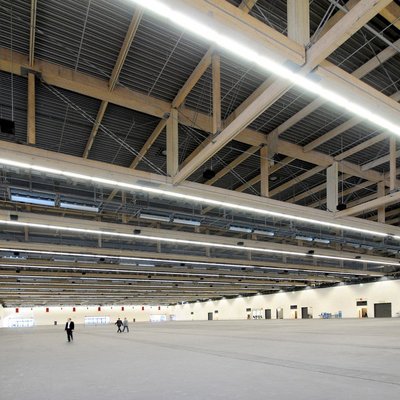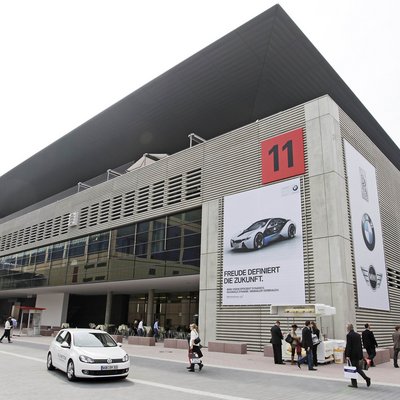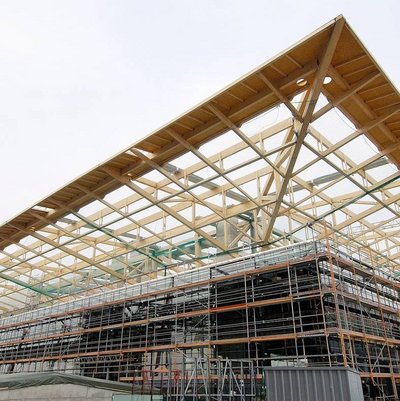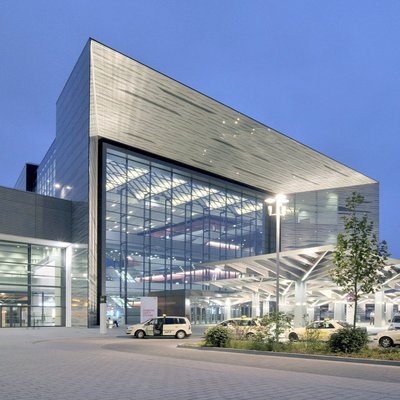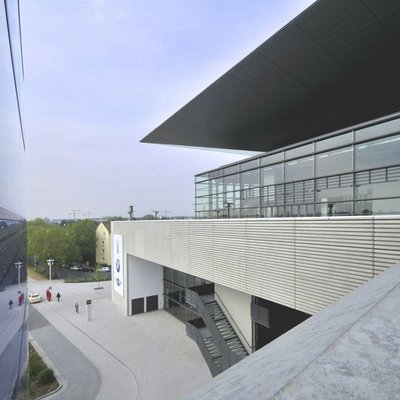 Messe Frankfurt
Hall 11
The new exhibition hall 11 for Frankfurt Messe GmbH will be inaugurated in 2009 on the occasion of the International Motor Show (IAA). The first exhibitors there will be the BMW Group with its three brands BMW, Mini and Rolls-Royce all under one roof.
In 2011, the timber roof construction received the recognition award for new buildings at the Deutscher Holzbaupreis [German Timber Construction Awards].
Timber impresses

with large spans
The 30-metre high Hall 11 that was built according to the plans of Hascher Jehle, a Berlin-based architectural firm, offers over 23,000 m² of exhibition space on two levels.
The roof construction consists of 12 timber trusses with steel tension diagonals in the interior of the hall and genuine timber frames with reinforcing plates for drift bolt connections in the tapered edge of the roof. The 78 m clear-span trusses, which together with 2x 19.40 m of cantilever have a total length of 116.80 m, are a masterpiece in timber engineering by WIEHAG. The trusses have a centre distance of 10.4 m and are connected by timber beams in the top chord area. The wide cantilevered roof, with a length of 200 m, looks like a horizontal slab that appears to float above the structure. Roughly 2,600 m³ of glued laminated timber was used in the timber roof construction.
The jury of the Deutscher Holzbaupreis [German Timber Construction Awards] 2011 said:
The construction of Hall 11 in Frankfurt is further proof of the performance capacity of timber for large spans: 78 m spanned, 7.80 m high trusses arranged at a distance of 10 m create the framework of this impressive structure. The diagonals were implemented with minimized steel ties to achieve maximum transparency and lightness in the design. Using universal bolts screwed in at an angle to form the connections is particularly commendable in a support structure of this magnitude and proves that this method is effective.
Client

Messe Frankfurt GmbH (DE)

Architecture

Hascher Jehle

Construction period

2008

Award

Recognition Prize for New Buildings at the German Timber Construction Award 2011