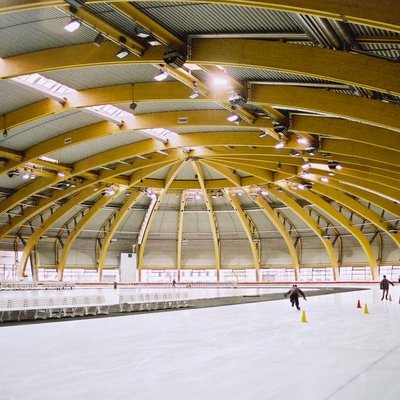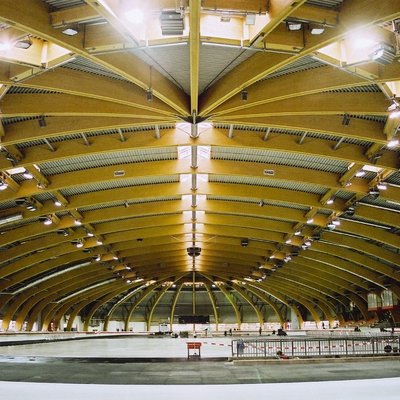 Ice rink
Erfurt
Ice sports have a long tradition in Erfurt. First a 400-metre track was built in 1996. The wish to cover the open-air skating area was then fulfilled in 2001. WIEHAG developed the support structure concept for the Pohl Architekten design and with that beat all competitors.
The existing ice rink could no longer be accessed by heavy lifting equipment. A real challenge for the WIEHAG team. The European Speed Skating Championships were due to take place in the Gunda-Niemann-Stirnemann-Hall shortly after opening.
Engineering, production and assembly
all from a single source
A pillar-free hall construction with a span of approx. 85 m was developed over the existing 400 m outdoor ice rink, enabling year-round use for ice sports, speed skating and ice hockey as well as for events. Physical construction criteria were decisive for the architects in selecting timber as the material for the main support structure. The support structure consists of arch-shaped half-frames that meet at the apex and are optimised according to their load distribution. The individual half-frames consist of glued laminated timber twin trusses (H = 1.50 m, W = 0.18 m) with glued laminated timber spacers in between. This gap is used to facilitate invisible cable routing in the support structure area. In the tension area, bars of 60 mm diameter with multi-piece steel compression forks form the half-frame span. The base is articulated on steel pans. Bracing is provided at the last pair of beam segments before the hall curvature. The hall curvature is formed by fanned-out half frames. The spacing between the standard trusses is 8.70 m.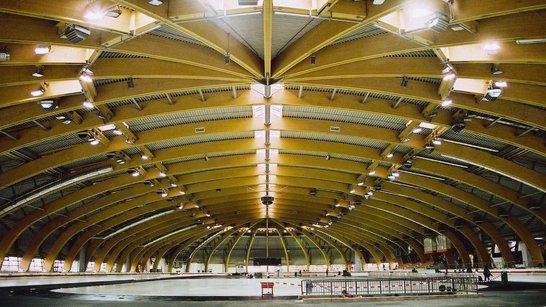 Client

City of Erfurt (DE)

Architecture

Pohl Architekten

Planning & construction period

1999 – 2002

Awards

Architectural competition / 1st prize
Thür. Timber Construction Prize 2002
Engineering Construction Prize 2002