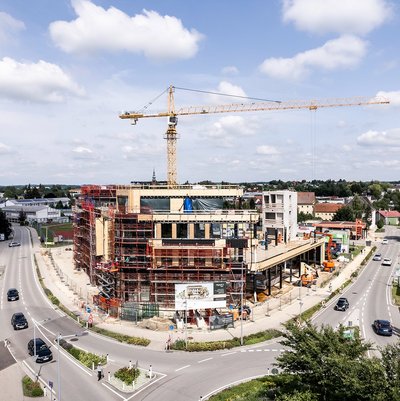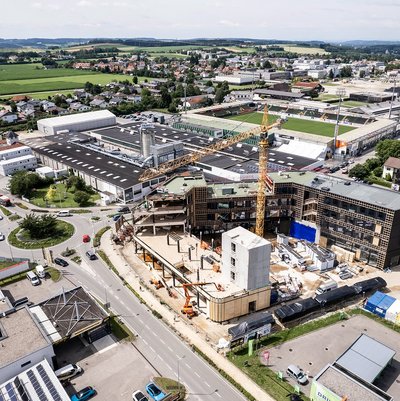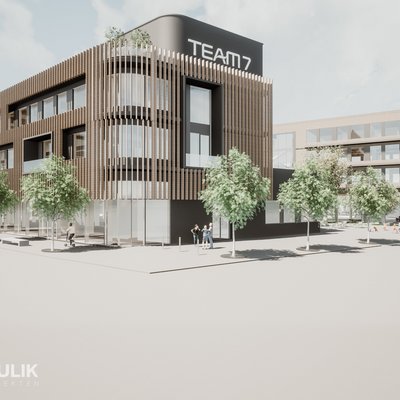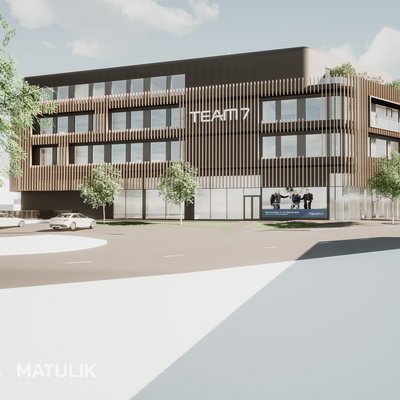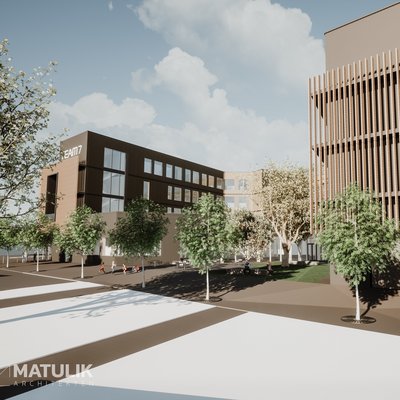 The new
TEAM 7 World
It will be one of the largest timber office buildings in Austria: With the new TEAM 7 Welt head office in Ried im Innkreis, WIEHAG is setting new standards in ecological timber construction.
The sustainability concept is implemented consistently and reflected in the resource management and ecology of the building. The special feature here: It is above all this corporate value that links the two companies from the Innviertel region.
Unique timber construction in skeleton design
With a total net area of 6,100 square metres on four levels, the plan for the new TEAM 7 Welt is impressive. An outstanding feature of the planned building is the special skeleton construction. This also enables a particularly flexible façade design. On the street side, vertical sun protection slats made of untreated oak will be installed. The total of 6,000 solid cubic metres of round timber originates in part from TEAM 7's own company forest.
We take responsibility from the tree to the finished product for the customer. With WIEHAG, we have found a timber engineering specialist who shares these values with us.

— Georg Emprechtinger, owner of TEAM 7
Living & building with wood
TEAM 7 is the Austrian brand for eco-design furniture. The company attaches particular importance to sustainability of the value chain. A principle that applies to TEAM 7 in manufacturing natural wood furniture is the basis for WIEHAG in timber construction. Sustainability not only dictates the thinking of both companies, but also their actions. This is illustrated not least by pioneering projects such as this one.
Experience TEAM 7
The new TEAM 7 Welt will feature not only modern open-plan workplaces. With the largest investment in the company's history, TEAM 7 is seeking to strengthen the power of the brand. In the 1,200 square metre store, customers can be inspired by the furniture manufacturer's natural living worlds. Highlights include an organic restaurant for employees and guests, a rentable show kitchen, a sky bar with view over Ried and a roof terrace.
Scheduled completion

2023

Client

TEAM 7

Architecture

Matulik

Area

6,100 m²