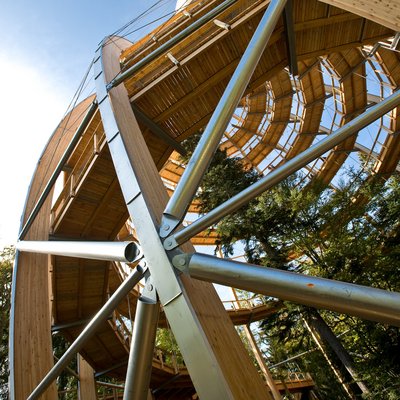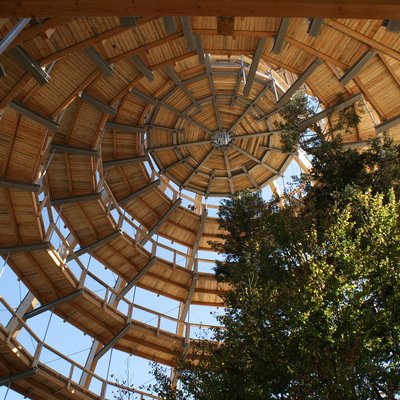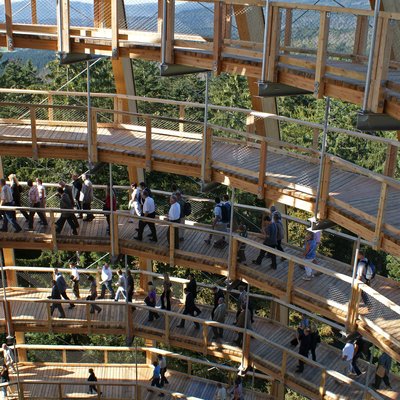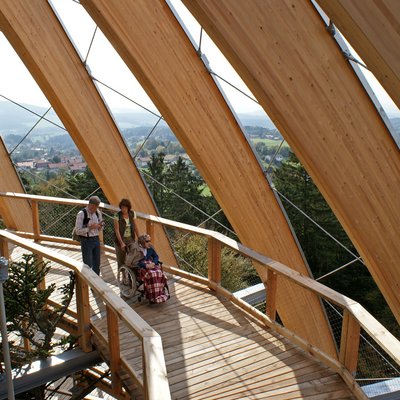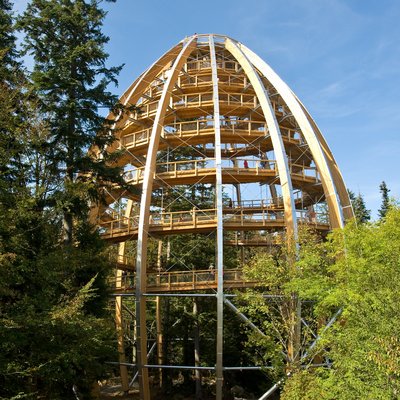 Treetop Tower
Neuschönau
Walk 8 to 25 metres above the forest floor in a beautiful, natural setting and take in amazing views – visitors to the new canopy walkway in the Bavarian Forest National Park near Neuschönau are able to do just that.
Just how impressive the tower is can be seen from the awards that the timber structure has received.
Experience the Bavarian Forest from a
different perspective
The Treetop Tower, designed by architect Josef Stöger from Schönberg, features an impressively airy architectural structure and a unique concept for enclosing the three very old, up to 38 m tall fir and beech trees in the egg-shaped tower. Located in the middle of the Bavarian Forest, the tower offers visitors the opportunity to view the surroundings from a completely different angle.
The 1,300-metre long footbridge ends at the platform of the magnificent Treetop Tower, 44 metres above the ground, and offers fantastic and almost endless views – towards Lusen, one of the national park's highest mountains, from the one side, and towards the picturesque Bavarian Forest all the way to the Alps from the other.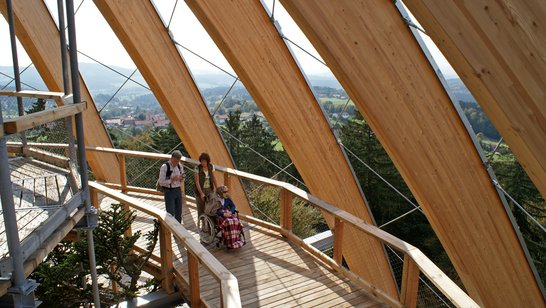 The timber construction expertise from
WIEHAG

made it possible

16 glued laminated timber arched girders (GL28c larch), each over 40 m long, support the 17-tonne viewing platform. The glued laminated timber beams were positioned axisymmetrically with an angle difference of 22.5° each to form an egg-shaped spatial structure. The ascent to the viewing platform is via a 460 m long and 2.5 m wide spiral structure made of timber, ensuring that visitors with wheelchairs or prams also have accessibility all the way to the top. Diagonal steel rods, bracing crosses and ring structures help to reinforce the tower. The complete reinforcement system was mounted on the back of the timber arches and protected with continuous sheet metal to protect the tower against moisture due to its exposure to the elements.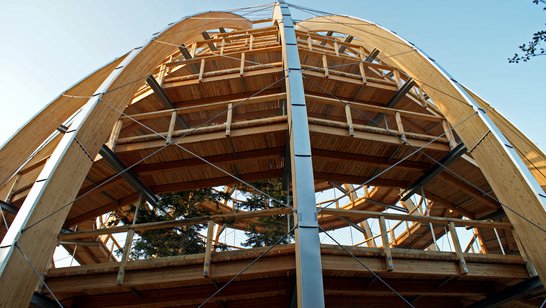 "An architectural highlight as a natural experience paired with building skill."

— Dipl.-Betriebsw. Bernd Bayerköhler, Chairman of Erlebnis Akademie AG
Commendations for the
Neuschönau Treetop Tower
The Treetop Tower is loved not only by its visitors. Judging panels in timber construction have also shown their appreciation. The clients, architects and builders have already received the following awards:
2010: Bayerischer Holzbaupreis [Bavarian Timber Construction Award]
2011: Holzbaupreis Bayerischer Wald [Bavarian Forest Timber Construction Award]
2011: Bayerischer Tourismus Architektur Preis [Bavarian Tourism Architecture Award]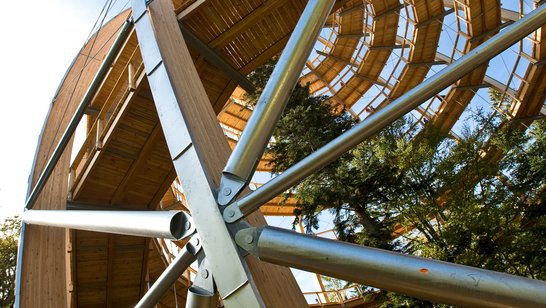 Location

Neuschönau (DE)

Client

Erlebnis Akademie AG

Architecture

Josef Stöger

Opening

2009

Overall height

44 metres