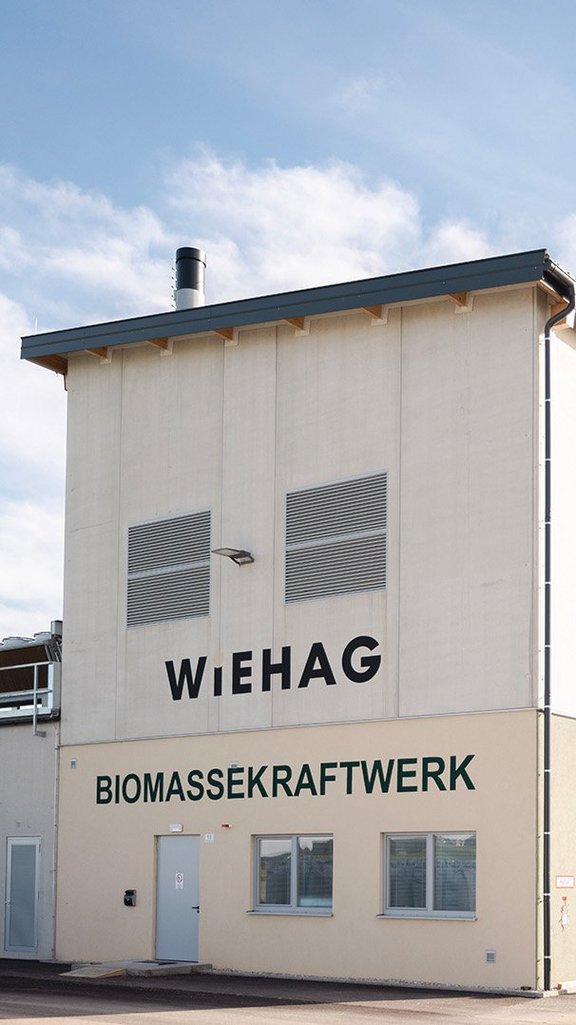 WIEHAG's
biomass power plant
WIEHAG is
self-sufficient in energy
In May 2019, we commissioned our new biomass power plant for heat generation. In 2021, we will start generating electricity using state-of-the-art wood gasification technology. Our goal: WIEHAG wants to be self-sufficient in green energy.
How does the biomass power plant work, and how did construction go?
A look behind the scenes and at the two construction phases.
Starting signal and
initial construction phase
The core of the first construction phase in 2019 was a firebox that is fed with biomass for firing via a sliding floor. The heat output is 3 megawatts. We use hot water as a medium to heat our drying chambers and all our buildings.
An economically and environmentally important part of the system is heat recovery: We use an economiser to recover additional heat from the flue gas , thereby increasing the overall efficiency. An electric filter ensures clean air at the end of the 20-metre-high chimney. The system is supplemented by a gas burner (4 MW) , which is supplied via the existing long-distance gas pipeline. This acts as a failsafe and a means to meet peak load requirements.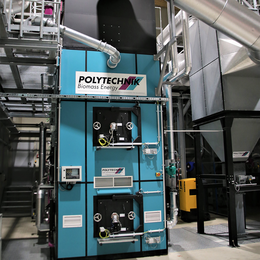 As early as 1938, electricity and heat were generated from timber at WIEHAG for reasons of supply security. With our new state-of-the-art systems, we are doing it again, because we are committed to sustainability and the circular economy.

— Otto Baier, Head of Maintenance
Electricity from our biomass

– the second construction phase
In winter 2021, our combined heat and power plant for generating electrical power from gasified wood residues will came on stream. A wood gasifier with a 12-cylinder gas engine will drive an electricity generator. This will generate around 500 kW of electricity per year in 8,000 operating hours. It is planned to use the generated electricity in our production, and to feed the surplus into the public grid at weekends.
Our dry shredded waste from production is fed into the biomass wood gasifier via an auger delivery system. After a few process steps, the gasifier produces product gas (flue gas), which has to be filtered and washed before it can be fed into the gas engine. The mechanically coupled generator generates electricity. The heat generated during gas production will be used in turn for process heating and spatial heating as well.