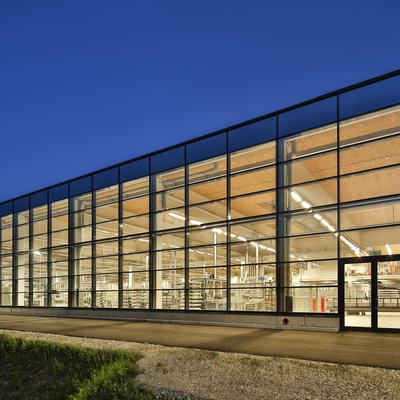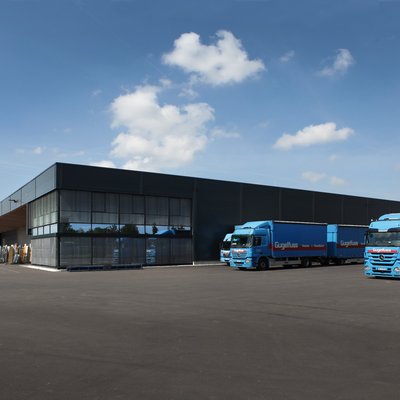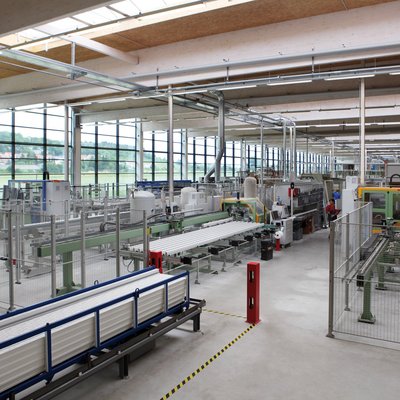 Gugelfuss
Elchingen
WIEHAG was commissioned to design, produce and assemble the support structure for the new Gugelfuss production hall in Elchingen, consisting of 39 parallel beams. 6,950 m² of solid roof panels and 4,245 m² of acoustic panels were also produced and assembled.
NEW BUILDING IN TIMBER


AT THE COMPANY HQ

The company Fenster Gugelfuss enormously expanded its production capacities at its headquarters by 6,500 m² and now concentrates its vinyl window production at one location.

With the engineering office Degen a general planner was found who was convinced by the economically attractive WIEHAG roof elements - which were offered as an alternative to perforated trapezoidal sheets - also for reasons of time.

The incomparable assembly speed of the 21-metre-long elements, 90% prefabricated and equipped with EPDM roofing, helped decisively to implement the ambitious schedule.

The glulam main load-bearing structure is arranged in a grid of 7.00 metres - 2 truss axes each are supported by central beams made of glulam and the main loads are transferred via reinforced concrete columns at intervals of 21 metres.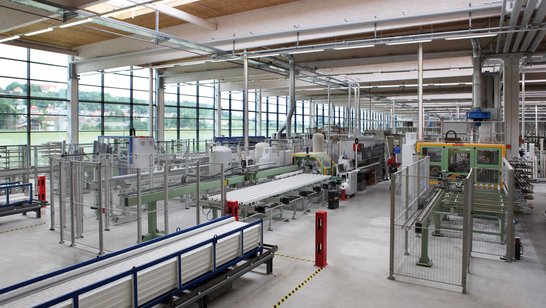 A pleasant
working atmosphere
WIEHAG roof elements also have the advantage of providing a pleasant working environment for the employees with the acoustic profiling - as the high frequencies of the production facilities can be absorbed to a large extent - quite incidentally they fulfil the bracing function in R30.
The visible supporting structure was painted with white glaze - this creates an interesting contrast to the noble-looking, grooved OSB soffit.
On the north side, the construction opens up through the full-surface glazing - the employees appreciate the bright, glare-free workplaces. For the neighbouring buildings, the 143-metre-long structure nevertheless appears light, as the landscape is reflected in the slightly tinted glass.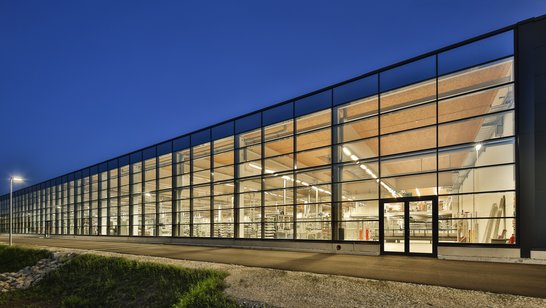 Location

Elchingen

Client

Gugelfuss GmbH

Engineering office

Degen und Partner

GLT volume

364 m²

Roof elements

6,950 m²

Acoustic panels

4,245 m²

Usable area

6,500 m²