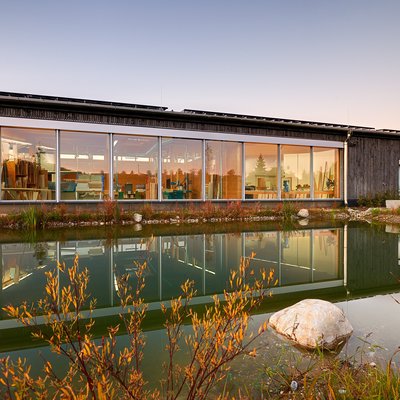 Joinery
Thalmeier

production shop

For the new production shop at the Thalmeier joinery in Dorfen, Bavaria, WIEHAG was commissioned to design, produce and assemble the support structure as well as the roof and wall panels.

The timber hall with an area of approx. 2,700 m2 was executed by WIEHAG as general contractor with WIEHAG roof and wall elements.
ROOF AND WALL

FROM ONE SOURCE

The newly built joinery of the Thalmeier company in Dorfen was designed as a 2-bay monopitch roof hall with a uniform roof pitch and built as a complete timber hall with a total of approx. 2,700 m2 of our roof and wall elements. The entire construction was designed for a fire resistance of R30. The spans of the individual hall bays are 15 m and parallel girders were installed. The hall length is approx. 60 m. Thus, the hall has a total roof area of approx. 1,800 m2. The roof pitch is 7°, the hall height rises from approx. 4.00 m (eaves) to 7.50 m (ridge).

The entire hall was mounted on timber supports, whereby the middle row of supports was designed as clamped timber supports, the supports of the outer longitudinal sides of the hall were designed as pendulum supports. For longitudinal bracing, every second central column was designed as a cross column with dimensions of approx. 60x60 cm. The timber columns were connected with WIEHAG inclined screw connections.
For additional roof and wall bracing, bracing braces in timber, consisting of glulam diagonals and glulam compression beams, were arranged. The roof elements were designed as single- and triple-span systems, the element structure was designed for the installation of a sliding bow roof. OSB panels are visible on the inside. The approx. 900 m2 of wall elements were constructed with OSB panels visible on the inside and a rear-ventilated timber façade with lintel formwork on the outside. Roofing, doors, gates and skylight domes were also included in WIEHAG's scope of services.
Location

Dorfen (DE)

Client

Thalmeier, Dorfen; WIEHAG (general contractor)

Architecture

Arch. Büro Türmer & Weingaertner, Munich

Services provided

Bearing system + roof and wall panels

Timber construction

2.700 m² Dach- und Wandelemente

Roof area

1.800 m²