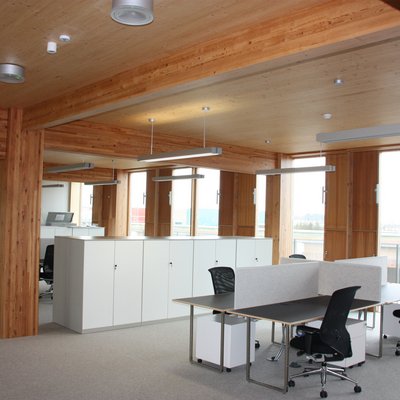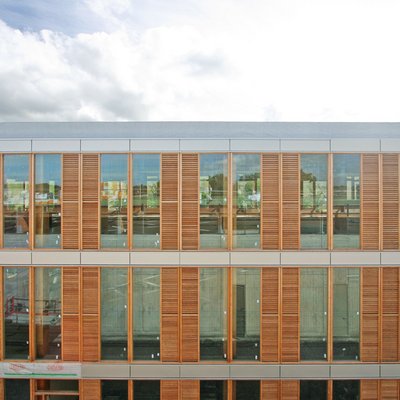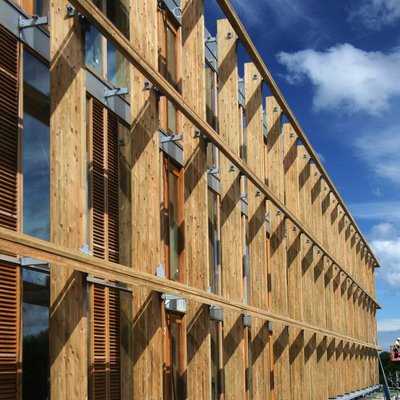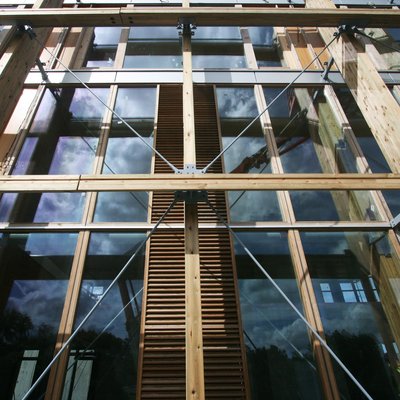 Ballyogan
office
Where once there was a landfill site, there is now a unique, trendsetting office and administration building made of timber: The Ballyogan Operations and Maintenance Depot south of Dublin was an important milestone in timber construction.
This was made possible by the products and services of timber construction company WIEHAG, with which multi-storey buildings made of timber became possible as early as 2006. 15 years later – in 2021 – we can rightly say: That was real pioneering work.
Timber in high-rise construction
– the early days
In early 2007, Bucholz McEvoy Architects were commissioned by Dun Laoghaire Rathdown County Council to design and plan an office building as part of the waste collection centre. At that time, reinforced concrete was the common construction method for most office buildings in Ireland. The "carbon footprint" was a relatively new trending topic and so Bucholz McEvoy conducted a comparative computation of the CO2 stored in the construction of the office building, namely reinforced concrete versus timber frame construction. The results were clear and, as there was already a close professional relationship between the architects and WIEHAG , a strategy to develop a design with an innovative yet cost-effective timber frame solution as the primary structure was pursued. At the time, nobody knew that this project would become a prototype for other, even more ambitious timber frame constructions.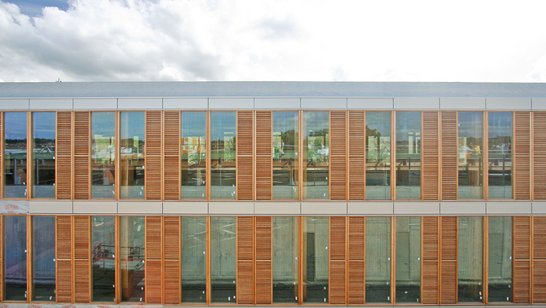 A pioneer
in high-rise timber construction
The aim was a three-storey office and administration building that would contribute to the development of a new urban area: Ballyogan was an ambitious project – not only from the perspective of the district development. Merrit Bucholz was one of the first architects to recognise the potential of wood in multi-storey construction as early as 2006. Together with WIEHAG, a milestone was set with the construction of this revolutionary high-rise building. The office building was planned and erected together with the Austrian timber construction company. The supports and beams made of glued laminated timber were clad with CLT boards for the ceilings and the roof. Today high-rise buildings are erected all over the world using the same system (LINK to high-rise detail page). The project in Ballyogan was therefore an avant-garde pioneer for high-rise timber construction.
Location

Ballyogan, Ireland

Client

Dun Laoghaire Rathdown Co.Co.

Architecture

Bucholz McEvoy Architects Ltd., Dublin

Completion

2006